Background
The Ballarat Star newspaper of June 1923 contained an article describing the creation of the Ballarat Amateur Radio Club and an advertisement for a general meeting on the 23rd of June 1923. June 2023 thus represents ( approximately ) the centenary of organised amateur radio activity in Ballarat. As yet there is no clear documented linkage between the BARG and the BARC, though this might be come clearer with more research. None the less the occasion is significant and could be used as an opportunity to showcase Amateur Radio as a worthwhile hobby within the community as well as entice BARG members to become involved.

The aim is
Celebrate the significance of the centenary Amateur Radio in Ballarat by showcasing Amateur Radio activities in Ballarat.
To contact "Ballarat" amateur radio stations.

To encourage BARG member stations to get on air

To encourage "Ballarat" stations to get on air
The duration of the activity is from the month of June 2023.
This activity does not qualify for, nor will it be using a Special event callsign. The activity is open to any validly licenced amateur radio operator in the world.
 

Recognition:

An electronic recognition certificate will be provided to those stations that make contacts with Ballarat stations during this period.  Please note, a valid email address will be required to receive the certificate. Physical copies cannot be provided.


There is no charge for the certificate.

Valid Contacts: Any band permitted. Any valid mode. Valid QSOs will be with the BARG club station, VK3BML or any Amateur Radio station that is a member of BARG or any Ballarat postcode Amateur Radio station who is not a member of BARG.  (Hint: drop in to either our 2m Tuesday or 80m Thursday nets, see home page for details)

Certificates Claiming:

Proof of contact is not required, Logs are not required to be submitted.

QSOs logged by the BARG club station or reported by personal club members will be used to automatically issue Certificates.

BARG club members and other Ballarat stations are requested to make a mention of the 100 Year significance during QSOs, and ask if the contacted station has a validly published email address and then enter the details at the form at HERE .

Non Ballarat stations can make a claim online by filling in the same form HERE where some details are requested.

Shortwave Listeners are also encouraged to apply using the same form

Only one certificate will be issued irrespective of the number of valid QSOs reported.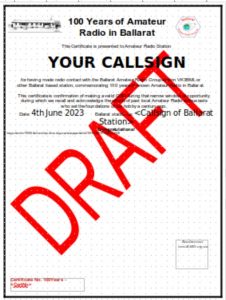 Is there a Certificate waiting for you?
Click on the image at left and take a look.
Click here to read some historical snippets found in old news papers
Henry Sutton – Inventor associated with Ballarat
BARG in the Local Media